Front End Developer

India
[Breaking] Arashi's Aiba Masaki and Sakurai Sho announce their marriages. (Not to each other, they have their respective spouses

) https://news.yahoo.co.jp/articles/c9b4f456d8eae23dab1338de54484e37d52853b4 …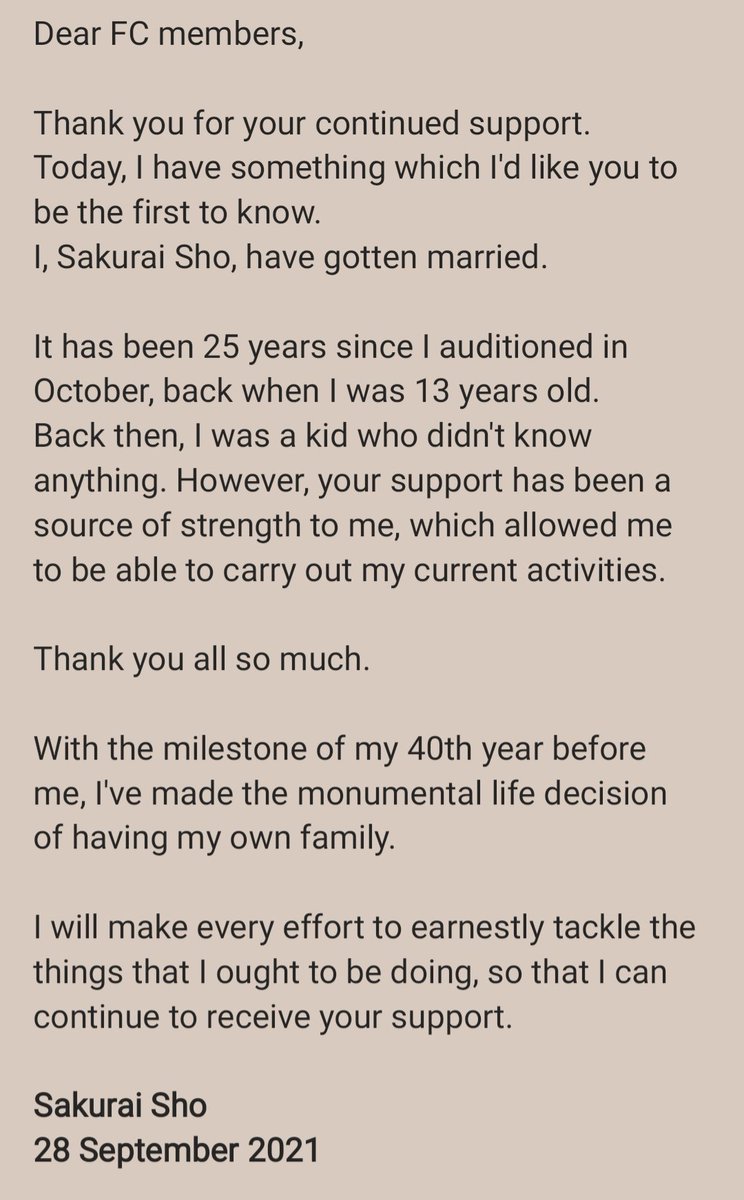 [FC message 28/9, Sakurai Sho]

Dear FC members, Thank you for your continued support. Today, I have something which I'd like you to be the first to know. I, Sakurai Sho, have gotten married.pic.twitter.com/JRhqDfd2e5
[FC message 28/9, Aiba Masaki]

Dear FC members, Thank you for your continued support. I have an important announcement to make today.pic.twitter.com/TlEvWNdVYb
You can imagine my confusion when I first got to know about the Sakuraiba marriage news and all I saw was this screen shot.pic.twitter.com/dd1smntar9
Thankfully other news outlets realized how misleading the headline was (Arashi's Sakurai Sho and Aiba Masaki are married), and they added the caption, "to non-celebrity women respectively".

pic.twitter.com/QwTgdeT1o8
Aiba & Sho raised the bar and sent fancy chocolates to the media outlets along with their marriage announcements. A box of 18 chocolates from Sweets & Deli (Palace Hotel Tokyo) will set you back by 5,400 yen. Flavors include Sakura, Rum, Bergamot Orange & Hojicha

pic.twitter.com/ljGYtuuT4n
Someone RTed the epic Sakuraiba date and it made me all emotional thinking about how Sho & Aiba talked about having their own families back in 2011.

pic.twitter.com/PltFrR03ip
Sho: Say Aiba-kun would cook, and Nino's kid would eat it and say, "Eww!" Aiba: I think they would. Sho: And my kid would be super anal about traveling time and packing up.pic.twitter.com/Q7Qn8OZUzY
In my excitement, I forgot to tweet this! Sho-chan, Aiba-chan, congratulations!! Wishing you both and your partners lifetimes of happiness !! 翔ちゃん、相葉ちゃん、おめでとうございます


末永くお幸せに!

https://youtu.be/HeXVJvEYynw  #翔くん相葉くん結婚おめでとう
[Arashi's congratulatory messages, excerpts]

You guys are old geezers already, so please take care of your health.

You guys really are best buddies!

I gave them a treat (at a coffee shop) after hearing the good news. (laughs)pic.twitter.com/E4H4G8h3X7
The reporter wrote, "Even while welcoming the milestones in the members' lives, Arashi's excellent teamwork lives on forever." NGL this sentence made me tear up.

pic.twitter.com/skszQN5jPH